Famous writers give helping hand
Some of the biggest names in fiction are to help students with creative writing at the University.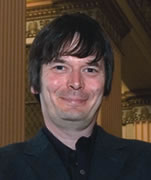 Ian Rankin and Ron Butlin are among the first authors to receive Honorary Writing Fellowships, which will broaden the base of writers involved with student tuition.
The scheme will be launched with a public reading by the two authors on Tuesday 24 March.
The fellowships are supported by the Scottish Arts Council and UNESCO World City of Literature.
How to book
This event is free but places must be reserved by email.
First class talent
The fellowships have been awarded to some of the most famous writers in the UK, including Philippa Gregory and Rona Munro.
As part of the scheme, the writers will give annual master classes to students at the University, as well as readings for the public.
We are delighted that some of the most successful writers in the UK will be sharing their expertise with University students. These new positions will help extend our thriving creative community.
Public Reading by Ian Rankin and Ron Butlin
This event may be photographed or recorded for promotional or recruitment materials for the University and University approved third parties.
Tuesday 24 March 2009, 7.30pm
Tuesday 24 March 2009, 8.30pm
Playfair Library, Old College, South Bridge, Edinburgh, EH8 97L
This article was published on