Writer takes up residence on campus
Award-winning novelist Alan Warner is the latest in a long line of illustrious names to be appointed as a writer-in-residence at the University.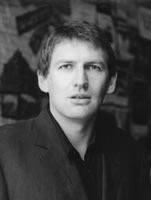 The Oban-born author, who has achieved success with six critically acclaimed novels joins the ranks of poet and playwright Liz Lochhead, scottish gaelic poet Sorley Maclean, and American writer Anne Stevenson, who have held writer in residence posts at the University.
Workshops for students
Warner, whose most recent novel 'The Stars in the Bright Sky' was included in the longlist for the Man Booker Prize, will hold writing workshops for students.
The novelist will also provide teaching support for students studying for an MSc in Creative Writing at Edinburgh.
Alan Warner achieved success with his first novel, 'Movern Callar', later adapted into a film staring Samantha Morton.
He has since achieved further accolades, including the Saltire Society's Scottish Book of the Year Award for his novel, 'The Sopranos'.
In 2003 he was nominated by Granta magazine as one of twenty 'Best of Young British Novelists'.
We are delighted to welcome Alan on board. He is a highly regarded and respected writer and his appointment is a wonderful addition to the activities of English Literature.
Highly respected writers
With support from the Scottish Arts Council, the University established the post of writer-in-residence in 1975, the first incumbent being the renowned Gaelic poet, and graduate of the University, Sorley Maclean.
The Office of Lifelong Learning also has a creative writing fellow, Ron Butlin, whose post is financed by the Royal Literary Fund.
Literary tradition
English Literature provides courses in creative writing at both Honours and MSc level while the Office of Lifelong Learning offer more than 30 courses annually, plus summer schools in all aspects of creative writing where students read and perform their work to the community as well as publishing in-house.
Alan Warner joins the University as it prepares to celebrate 250 years of English Literature at Edinburgh in 2012.
English Literature at the University can lay claim to being the oldest of its kind in the world.
It was almost 250 years ago that the University offered courses in what was then known as "rhetoric and belle letters", led by Hugh Blair, who was eventually appointed the first Regius Chair in the subject by George III.
Photo credit: Copyright Jerry Bauer
This article was published on