£1m pumped into spin-out research
A University spin-out has been awarded £1 million to adapt its automotive technology for use in wind turbines.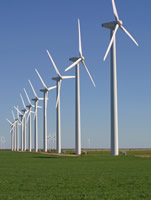 The Department of Energy and Climate Change grant will support Artemis Intelligent Power in the development of its computer-operated hydraulic pump system.
Computer control
Artemis's technology, known as known as Digital Displacement®, incorporates electronics into traditional hydraulic systems.
The system brings hydraulic machinery under computer control, resulting in a higher efficiency.
Digital Displacement® technology will be implemented into wind turbines to produce lighter and more cost-efficient systems.
Researchers expect the new turbines to be more reliable than conventional turbines, and to bring significant ecological and economic benefits.
Proven technique
Artemis's technology has been demonstrated in motor vehicles.
A BMW saloon fitted with the system uses less than half the fuel required by normal cars for city driving.
Licences to use the technology have been bought by two international manufacturers.
The Artemis technology will provide cost-effective solutions to some of the most challenging engineering problems facing the large scale deployment of offshore wind, wave and tidal power generation.
This article was published on