Child wellbeing improves in Scotland
The wellbeing of children in Scotland has improved over the last two decades, according to a new report.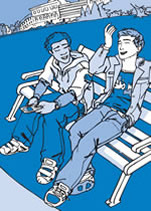 The Health Behaviours in School-aged Children (HBSC) Scotland National Report provides a picture of the health of young people aged 11, 13 and 15 years in Scotland.
The report was produced by the University with funding from NHS Health Scotland.
Positive long-term trends include improved emotional wellbeing. Young people report feeling happier, more confident and less helpless.
Oral health behaviour has also improved with more frequent tooth-brushing.
In addition, a higher proportion of young people report sex education in 2006 than 1990.
Findings
Shorter term improvements between 2002 and 2006 are seen in several areas:
Fruit and vegetable consumption has increased while crisps and sweets consumption has reduced.
A higher proportion of boys and girls are meeting recommended levels of an hour a day of moderate to vigorous activity.
A lower proportion are feeling stressed by their schoolwork.
Young people's TV viewing has decreased.
Experimental and heavy use of cannabis has decreased.
Condom use has increased.
Conclusions
These findings are encouraging. However, rates of smoking and drinking among young people remain higher than in 1990 despite a decline in both since 1998.
And for some health behaviours, such as bullying and fighting, neither improvement nor deterioration is seen over time.
Professor Candace Currie, Candace, Director of the Child and Adolescent Health Research Unit (CAHRU) said:
"Scotland has participated in HBSC, a WHO collaborative study, for two decades giving us a unique opportunity to track key areas of health among young people. This is an international study and Scotland is one of 43 countries now taking part.
"Previous HBSC surveys have flagged up that certain aspects of adolescent health in Scotland are less favourable than in other countries, including eating habits and emotional wellbeing. Therefore to see improvements in these is a positive sign."
Related Links
This article was published on