Farmers get clean break from waste
A system which turns farmyard waste water into water fit to bathe in has been developed by University scientists.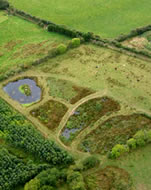 The eco-friendly system allows for safe storage and treatment of farm dirty water and requires very little maintenance.
The method was developed in cooperation with the Irish Government and backed by the Scottish Government and the Scottish Environment Protection Agency.
How it works
The method involves storing the liquids - manure traces and farmyard runoff - in a linked series of outdoor shallow ponds.
Effluents are channelled downhill into the ponds, in which water-borne plants filter out solid particles.
Over time, the waste breaks down into its component minerals and other materials - some is taken up by the plants for nutrition. Other solid particles settle on the bottom of the pond.
Over several days or weeks, the water travels between each of the ponds and becomes clean enough to meet bathing quality standards.
In most cases, water can be discharged from the final pond to a local river, stream, ditch or woodland.
Cheaper and safer
The system, known as an integrated constructed wetland, provides a cheaper and safer alternative to the common practice of spreading dirty water on farmland.
It also prevents loss of contaminants to rivers and lakes, where they may be detrimental to animal or human health.
Additionally, wetlands encourage biodiversity by providing a home for wildlife and adding colour and texture to the landscape.
Wetlands offer a safer alternative to spreading dirty water on fields, and are effective and easy to maintain. It's a back-to-basics approach of dealing with farmyard waste water.
Picture courtesy Dr Rory Harrington.
Related Links
This article was published on