Washington events strengthen US ties
The University is to celebrate its strong ties with the US by holding a series of events in Washington DC later this month.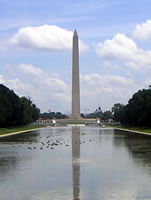 The three-day programme of events will provide a unique opportunity for Americans who have studied at Edinburgh to renew their links with the University.
Honorary degree for Neil Armstrong
The astronaut Neil Armstrong is to be awarded an honorary degree by the University at a ceremony to be held in the British Ambassador's Residence on Friday, 13 June.
The degree ceremony will include a laureation by NASA astronaut and Edinburgh graduate Piers Sellers.
150 years of the General Council
We are immensely proud of our historic links to the US and the fact that two Edinburgh graduates were signatories to the Declaration of Independence
The ceremony coincides with the 150th anniversary meeting of the University's General Council, which will be held at Georgetown University the next day.
The General Council has played a key advisory role in the life of the University since 1858.
It has been involved in landmark events, such as the admission of women to the University.
Other events
Other events lined up include a conference on the business world's response to climate change at the British Embassy.
Speakers include representatives of some of the world's largest companies, including Wal-Mart and Coca-Cola.
The University will also host a reception and dinner for Edinburgh graduates at the Library of Congress, the oldest cultural institution in the US.
Today our relationship with the US is a strong as ever with close to 1,500 of our 25,000 students coming from America. It is fitting that we mark the 150th anniversary of the University's General Council with this series of events in Washington to build on our close ties with colleagues and alumni across the Atlantic.
Related Links
This article was published on