Work on £42 million Vet School begins
The Princess Royal has marked the start of work to build a new Vet School at a visit to the University's Easter Bush campus.
The £42 million building for the Royal (Dick) School of Veterinary Studies will form part of a wider £100 million development on the site.
This will include a cancer centre for animals, equipped with scanners and radiotherapy equipment, and a new research building for The Roslin Institute.
The Princess Royal, who is patron of the Vet School, attended a tree dedication ceremony and a reception with 50 guests.
International partnership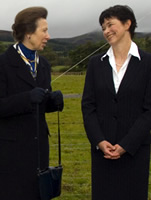 A memorandum of understanding was also signed between The Royal (Dick) School of Veterinary Studies and the College of Veterinary Medicine and Biomedical Sciences at Colorado State University.
The collaboration between the two vet schools will foster exchanges for students, expanding both their clinical research knowledge.
It will also encourage partnerships on research projects, such as looking at emerging infectious diseases that can cross the species barrier from animals to humans.
Development plans
The new Vet School building will aid clinical teaching, with its location alongside the Hospital for Small Animals.
It is due to be completed in 2010. The new £3 million cancer centre will be built by next year and combine radiotherapy with advanced imaging technologies.
It will cater for animals of different sizes and be one of the top facilities of its kind in the world.
The Roslin Institute building will be located opposite the School and Hospital for Small Animals and will bring together 500 scientists and support staff.
The new School building and development on the Easter Bush campus will strengthen the School's position as a leading centre of excellence for both teaching and research.
Photography credit: Paul Watt.
Related Links
This article was published on