Honorary degree for Desmond Tutu
The Most Reverend Desmond Tutu, Archbishop Emeritus of Cape Town, has received an honorary degree from the University.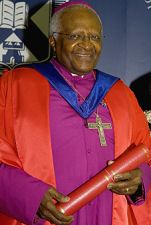 The South African cleric and activist, who rose to prominence in the 1980s as an opponent of apartheid, was awarded an Honorary Degree of Doctor of Divinity.
The graduation ceremony took place in the Playfair Library on Wednesday 27 May.
Archbishop Tutu was welcomed to Old College by Principal Professor Sir Timothy O'Shea, who conferred the degree.
Thank you so very very much for making me a member of this wonderful, wonderful institution, which has made tremendous contributions to our continent of Africa
In thanking the university for honouring him, Archbishop Tutu spoke of the historic links between Africa and the institution:
"Some of our first black physicians were people who had trained here and there is a long tradition that links this university with our part of the world."
General Assembly
Prior to his visit to Old College, Archbishop Tutu addressed the Church of Scotland's General Assembly in Edinburgh.
He attended the Assembly as a guest of former Scottish Parliament presiding officer George Reid, who is the Lord High Commissioner to the Assembly.
Mr Reid, himself an Edinburgh honorary graduate, was also present at the graduation ceremony.
Archbishop Tutu received the Nobel Peace Prize in 1984 and the Gandhi Peace Prize in 2007.
Related Links
This article was published on