Expert honoured for tsunami work
An Edinburgh student studying for a PhD in anthropology has won an award described as the "Asian Nobel Prize".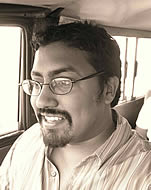 Ananda Galappatti has been awarded one of this year's Ramon Magsaysay Awards, which recognise outstanding achievement in Asia.
The award acknowledges Galappatti's outstanding work with victims of the Asian Tsunami of December 2004 and the conflict in Sri Lanka.
Originally from Sri Lanka, Galappatti studies on a joint PhD programme run by the University of Edinburgh and the Institute for International Health and Development, Queen Margaret University.
Psychosocial consequences
When natural disaster strikes aid programmes are often focused on providing water, food and shelter.
Galappatti has concentrated on helping victims deal with the psychosocial consequences - shock, grief, fear, insecurity and depression.
After the tsunami
Following the tsunami, Galappatti founded a network of organisations and individuals who worked in the hardest hit area, coordinating psychosocial aspects of the relief effort.
He lobbied for better psychosocial services, briefed aid organisations, set up a rapid assessment system for orphaned children and organised training workshops.
Ananda Galappatti is currently working in Sri Lanka, carrying out field research for his PhD in social anthropology and international health and development.
Ananda is a wonderful student and fully deserves this extraordinary recognition. He is only one of a group of extraordinary students from Sri Lanka who have come to work with us in Edinburgh, each of whom has their own remarkable story to tell."
This article was published on