Edinburgh in top five for researchers
The University has been named among the top five best places in the world for post-doctorate researchers to work.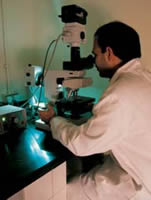 A poll by The Scientist magazine ranked Edinburgh fourth in the global list.
In an annual global survey of scientists in research institutions, the University was praised for the quality of training and mentoring, guidance and career advice available to researchers.
Scientists also praised the networking opportunities available at the University and rated the high calibre of scientists and the positive atmosphere and community at the institution.
The University of Edinburgh consistently attracts the best quality researchers working at the forefront of their fields. The high-quality facilities and a collaborative atmosphere contribute to a world-class institution for scientific research.
Related Links
This article was published on