All the colours of nature inspire new show
A multi-coloured installation is the centrepiece of a new exhibition at the University's Talbot Rice Gallery.
The new work, Various-coloured Snapdragon, is inspired by a 19th century scientific attempt to classify colours and is part of a display of work by acclaimed artist Alison Turnbull.
More information on the exhibitions is available from the Talbot Rice Gallery.
Alison Turnbull/James Cumming exhibitions
Colours of the earth
The site-specific work, painted directly on the curved walls of the gallery's Round Room, was influenced by a German geologist.
Abraham Gottlob Werner published his Nomenclature of Colours in Edinburgh in 1814.
It used the University's mineral specimens to define colours, like a Pantone chart for scientists.
A copy of Werner's manual and a selection of the minerals he used from the University's collection are also on display. National Museums Scotland now hold the minerals.
The Round Room installation is the culmination of the Gallery's new exhibitions of work by Turnbull and the late Edinburgh College of Art tutor James Cumming.
Both exhibitions run from 10 March until 5 May 2012.
Alison Turnbull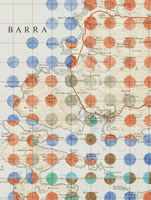 Born in Bogotá, Turnbull studied at Bath Academy of Art and now lives and works in London. Her contemporary abstract paintings take charts and scientific diagrams and distil from them colour, rhythm and pattern.
The exhibition is conceived as a lexicon of looking, a series of encounters that are displaced and then echoed as one moves through the different rooms and spaces. Painting and drawing are in close and constant dialogue.
James Cumming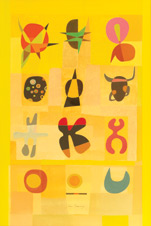 James Cumming (1922-1991) was a student and subsequently a tutor at Edinburgh College of Art. He was elected Academician of the Royal Scottish Academy in 1970.
Based upon his experiences in Edinburgh, the Borders, India and America, this exhibition includes little-seen paintings, sketchbooks and preparatory materials.
His mixture of figurative and abstract elements are complex and beautiful and result in works that do not fit neatly within any one category.
Talbot Rice Gallery
The Talbot Rice Gallery is the University's public art gallery.
An outstanding centre for art and ideas, the gallery presents original and relevant exhibitions within a unique historical context.
The exhibitions exemplify creativity and ambition, seen through a distinctive programme of Scottish and international artists, with informed interpretation and lively educational events.
Alison Turnbull / James Cumming
Admission free. Tuesday - Saturday, 10am - 5pm
Saturday 10 March 2012, 12.00am
Friday 4 May 2012, 11.00pm
Talbot Rice Gallery, Old College, South Bridge, Edinburgh, EH8 9YL
Credits
Sea the Stars, 2009. Courtesy of Matt's Gallery, London and Peter White.
Installation. Alison Turnbull exhibition at Talbot Rice Gallery, 2012. © Talbot Rice Gallery & Ruth Clark
We Crossed the Minch, 2011. Courtesy of the artist and Matt's Gallery, London
Chromosomes (1), 1970. Private Collection
Related Links
Talbot Rice Gallery
Undergraduate study: history of art
Postgraduate study: history of art
This article was published on