Symphony comes to light
An acclaimed composer's long-lost musical tribute to the city of Edinburgh has been uncovered by a University scholar.
The Edinburgh Symphony, written by Dutch-German composer Julius Röntgen, premiered at Edinburgh's Usher Hall 80 years ago.
The piece's full score and orchestra parts were mislaid in the 1930s and only recently discovered by Edinburgh music lecturer Richard Witts.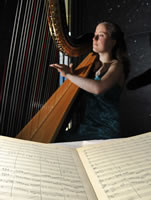 Celebration
To celebrate the discovery, undergraduate music student and harpist Julia Somerville performed an extract from the symphony at the University's Main Library.
Experts from Music at the University hope to recreate a performance of Röntgen's tribute to the city at the Usher Hall in the near future.
Discovery
Richard Witts came across the lost score while he was researching the archive of Sir Donald Francis Tovey, a former Reid Professor of Music at the University.
Professor Tovey, who once described Röntgen as "one of the greatest masters of absolute music" was founder of the Reid Symphony Orchestra, which rehearsed at the Reid Concert Hall.
Professor Tovey conducted the only previous performance of The Edinburgh Symphony in 1930.
Major work
Röntgen, a close friend and associate of Johannes Brahms, was given an honorary degree by the University of Edinburgh in 1930.
At the ceremony, he gave the then Chancellor the score of the symphony. It was one of his last major works before his death in 1932.
This is a really exciting find, now we can once again hear this special symphony in the City of Edinburgh.
Photographs: Maverick Photo Agency.
This article was published on