Chosen for greatness
The University has been chosen to co-host the final Olympic preparations for Team GB's swimming squad this summer.
From 18 to 24 July all our Olympic swim stars will be in Edinburgh to complete their competition preparations.
They will train at the recently refurbished Royal Commonwealth Pool, with their strength and conditioning work taking place at the University's Pleasance complex.
Quality facilities and support
Among the athletes will be Michael Jamieson, 200m Breaststroke, who swims jointly for the University Swim Team and Bath.
Watch an interview with Michael Jamieson and our Head of Performance Swimming, Chris Jones about the quality of training facilities and support on offer at Edinburgh.
Sporting legacy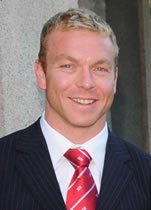 Edinburgh caters for 24 of the 26 Olympic sporting disciplines.
The University is consistently ranked top 6 in the UK, in the British Universities and Colleges Sport League.
We have a long history of our athletes going on to excel in the sporting world, from Eric Liddell's 400m gold medal in 1924 to Sir Chris Hoy's triple cycling gold in Beijing in 2008.
Alumna Katherine Grainger, Britain's most successful female rower, will join Sir Chris and other members of Team GB in the push for medals in London this summer.
Other University athletes will also be vying for Olympic places when the selections are finalised over the next few months.
Our sports facilities are among the finest in the UK. We provide bursaries, training and support to help gifted students realise their potential in individual and team sports.
Performance Sport at Edinburgh
Next generation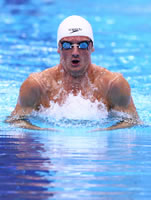 Edinburgh will also welcome the next generation of Olympic hopefuls who will join the Senior Swim team for a three-day camp in July.
Around 15 of Britain's most talented young swimmers will use St Leonard's pool for swim sessions and the Performance Gym for land training.
The aim of the camp is to give the young athletes experience of how the Seniors train in the run-up to a major championship.
It is a great thrill and privilege to be co-hosting the Team GB Swimming's final Olympic preparations ahead of London 2012. This represents a real endorsement of the quality and growing reputation of the University's sporting reputation.
Study with us
We offer sport-related degree programmes at both undergraduate and postgraduate level, from sport and exercise science to recreation management and coaching.
Photos: Courtesy British Swimming.
This article was published on