Scottish astronomers out of this world
Scottish astronomers are pre-eminent in their field, according to analysis of published scientific research.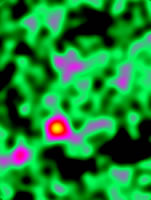 Researchers in space science refer to the work of experts in Scotland more frequently than the work of researchers anywhere else, according to figures published in the Times Higher Education magazine.
Pooling expertise
The statistics highlight the expertise of the Scottish Universities Physics Alliance (SUPA), a pooling arrangement which includes researchers from the Universities of Glasgow, Edinburgh, St Andrews, Strathclyde, West of Scotland, and Heriot-Watt University.
SUPA has benefited from recruitment of world-class staff and through collaboration.
Leading technology
Scottish success in astronomy has been made possible by developments such as the SCUBA submillimetre camera, which rivals the Hubble telescope in terms of its impact on astronomy.
The device has helped scientists obtain heat-generated images of early galaxies, and shed light on the formation of our solar system.
Scottish astronomers are proud to be leading the world in terms of research quality. With investment from SUPA, we expect to continue our success in working on the biggest challenges in modern astronomy, such as extrasolar planets or the nature of dark energy in cosmology.
This article was published on