International Student of the Year
A first year architecture student from Delhi has won the University's inaugural International Student of the Year Award.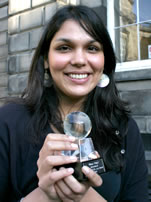 Nirupa Puliyel won the prize for a humorous essay on life as a foreign student in Edinburgh.
She wrote of the similarities and differences between the 13th century Scotland of Mel Gibson's film Braveheart and today's international capital.
Miss Pulivel, 20, saw off competition from students from Spain, China, Tanzania, Romania, Italy and the US.
She collected her prize - a trophy and £500 - at a ceremony at the University on 15 April.
Miss Pulivel said she was attracted to Edinburgh by the global reputation of architecture at the University and was impressed by the richness and variety of student life in Edinburgh.
Edinburgh is truly a city that absorbs you into its arms, regardless of your race, age, nationality, or even duration of stay.
Related Links
This article was published on