National Student Survey 2012
The University is again participating in the National Student Survey (NSS).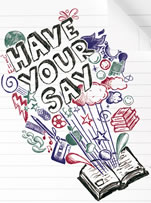 NSS is a census of final-year undergraduate students across the UK which asks for student's views on the quality of their degree programmes.
Students are asked for their opinions on a number of areas including assessment, feedback and academic support.
Survey results are made available online to help future students choose what to study and where.
Data from the survey is also fed back to institutions to assist them in improving the student experience.
The National Student Survey is run by the Higher Education Funding Council for England (HEFCE) and is independently carried out for HEFCE by Ipsos MORI UK.
Have your say
If you are a final year undergraduate at Edinburgh, this is your opportunity to have your say.
The survey takes less than five minutes to complete and responses are anonymous.
Supported by students
The National Student Survey is strongly supported by the National Union of Students (NUS).
The senior office bearers of the Edinburgh University Students' Association (EUSA) are also supporting the University's participation.
Mike Williamson, Vice-President Academic Affairs, EUSA said:
"The National Student Survey gives final year undergraduates the chance to reflect on their time at the University and to have their views heard.
"The results help inform future students about studying at Edinburgh and assist the University in identifying where things are going well and where changes may be needed to improve the student experience.
"With your input EUSA can work to ensure students are heard within the University at all levels to ensure progress continues to be made in acting on the results.
I'd urge all final year students to complete the survey - it only takes a few minutes and for the results to be meaningful we need as many responses as possible.
Results
In last year's survey the University did well overall - 67% of our students took part and registered an average satisfaction rate of 85%.
The results of this year's survey are expected to be publicly available in September 2012.
About the survey
Final year undergraduate students will be contacted by Ipsos MORI in January and invited to fill in the survey online.
Students are not required to complete the survey and those who did not opt out on their registration form and now wish to opt out are free to do so.
However, if you are in your final year of an undergraduate course you can complete the survey now by visiting The National Student Survey Website.
Related Links
This article was published on