Student Festival
The Student Festival runs from 26 to 31 January and is packed full of events for students and the local community.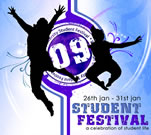 Now in its sixth year, the festival brings together everything that is great about being a student at Edinburgh.
The week features live music, comedy, theatre, dance, gaming, film and outdoor events.
Highlights include the German Society's famous beer fest, the Vixens cabaret show, Harry Potter's sorting hat, greek dancing and a pyjama party.
What's on?
Full details of all events are available on the Edinburgh Student Festival website.
Run by students
Events are run by the Edinburgh University Students' Association (EUSA) or student-run societies.
There's a chance to experience lots of different activities with various taster sessions running during the week.
Being at university is about so much more than getting a degree, it's about experiencing student life and the Student Festival is the ultimate celebration of this.
Event details
Student Festival
Monday 26 January 2009, 12.00am
Saturday 31 January 2009, 12.00am
Related Links
This article was published on