Edinburgh Student Festival
The Edinburgh Student Festival runs from 28 January to 2 February and is packed full of events for students and the local community.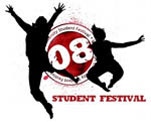 Now in its fifth year, this festival is the biggest yet and features live music, comedy, theatre, dance, gaming, film and outdoor events.
Highlights include the debate "Last Chance to Stop Climate Change" with guest speaker Patrick Harvie MSP, a 1940s style tea dance and "Bodacious Bierhalle" a thigh-slapping beer festival.
What's on?
Full details of all events are available on the Edinburgh Student Festival Website.
The events are run by the Edinburgh University Students' Association (EUSA) or student-run societies.
Gordon Aikman, Edinburgh Student Festival Director and EUSA Vice President Societies and Activities, said:
"Being at University is about so much more than getting a degree or letters after your name, it's about the whole package - experiencing student life - and the Student Festival is the ultimate celebration of this.
"The Student Festival gives students at the University of Edinburgh and other universities and colleges from across the city the opportunity to get involved in student societies and experience something new."
Event details
Edinburgh Student Festival
Monday 28 January 2008, 12.00am
Saturday 2 February 2008, 12.00am
This article was published on