Surgical socks no help to stroke victims
Treating stroke patients with surgical stockings does not reduce their risk of blood clots, a study suggests.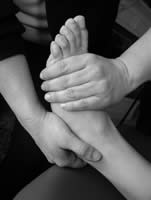 Doctors have found that the compression stockings have no effect in preventing deep vein thrombosis - a life-threatening form of blood clot that can travel up into the heart or lungs - in stroke patients.
It is estimated that cutting the use of stockings in stroke units could save the NHS around £7 million and 320,000 hours of nursing time each year.
Worldwide trial
The University research team studied over 2500 stroke patients in the UK, Italy and Australia.
Around two thirds of stroke patients are unable to walk on admission to hospital and approximately 15 per cent develop blood clots because of this lack of movement.
All patients in the trial were treated with routine care - including aspirin and assisted exercise - and half were offered surgical stockings as well.
The results
After 30 days, there was no significant difference between the groups in the occurrence of DVT and the patients using stockings suffered more skin breaks, ulcers and blisters than those without.
The results were presented at the European Stroke Congress in Stockholm on Wednesday and have been published in The Lancet.
It was previously thought the tight stockings helped to increase blood flow through the legs and reduce the formation of clots.
The national guidelines need to be revised and we need further research to establish effective treatments for these patients. Abandoning this ineffective and sometimes uncomfortable treatment will free up valuable resources in our health services.
Compression stockings are still recommended for patients who have undergone surgery and for people travelling on long-haul flights.
The CLOTS (Clots in Legs or Stockings after Stroke) trials are funded by the Medical Research Council, Chest, Heart and Stroke Scotland, the Scottish Government Chief Scientist Office and the UK Stroke Research Network.
They are also supported by NHS Lothian.
This article was published on