Short story competition winner named
An Edinburgh based writer has been named as the winner of the UK's only short story competition inspired by genetics.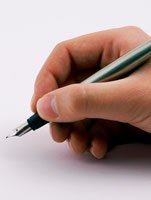 Ben Smart has taken top prize in the competition run by the ESRC Genomics Forum, based at the University.
New publication
Mr Smart's previously unpublished story, called The Test, about an artist who paints portraits of his father who died of a genetic illness, won him a £500 prize.
The Test will be published in a special printed collection to be launched in August at The Edinburgh International Book Festival.
The competition invited authors to consider how, and if, we understand the impact of genetic information on our everyday lives.
Read the winning stories on the Genomics Forum website.
Exciting competition
The competition's judging panel were:
Lin Anderson (crime writer)
Dr Joan Haran (social scientist at Cesagen, Cardiff University)
Dr Elizabeth Patton(MRC Human Genetics Unit and The University of Edinburgh)
Professor Simon van Heyningen (Vice Principal for Learning and Teaching)
This was a very exciting competition. I was very interested to read the wide variety of responses to the challenge and to note that on thewhole, writers concentrated on the perceived negative impact of the science.
The ESRC Genomics Forum is about to embark on another creative writing project, the Human Genre Project which launches in August 2009.
Related Links
This article was published on