Grant to develop stem cell therapies
Two university projects will receive a total of £3.6 million from Scottish Enterprise and the Medical Research Council (MRC), in collaboration with the UK Stem Cell Foundation.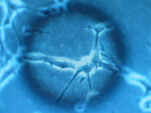 Both projects will examine therapies involving stem cell technology. One project will look at ways in which liver disease could be treated using embryonic stem cells, the other will look at new ways to repair damaged bone and cartilage.
Treating liver disease
The first of these projects will look at how embryonic stem cells differentiate to become liver cells, and how these can be made to repair damaged livers.
The research could ultimately reduce the need for transplantation, where there is a desperate shortage of organs.
In the first instance, the successful development of liver cells from embryonic stem cells will revolutionise and improve the way we are able to test drugs and novel therapies both for the liver and other organs and ultimately may lead to a stem-cell based approach to regenerate the liver.
Repairing damaged bone and cartilage
The second project, which receives £1.7 million of the funding, will look at improving the differentiation of embryonic stem cells into cells that have the potential to make bone and cartilage.
Cartilage damage from injury or diseases, such as osteoarthritis, is a major problem in the UK. If we can prevent cartilage from breaking down, or repair it, then we could potentially reduce the need for hip replacements.
The research could also have applications for patients whose bones have been shattered in accidents.
This article was published on