Experiment heralds new era in recording
Studio-quality sound will travel hundreds of miles over a computer network to be recorded, in a University experiment.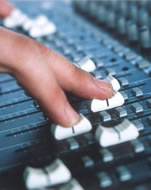 Bagpipe music performed by students in Edinburgh will be captured in surround sound and sent over a high bandwidth internet network to York, 300 miles away.
The development allows remote collaboration in real time - artists can perform in a studio hundreds of miles from where their sound is recorded.
The experiment, a UK first, opens up possibilities for remote collaborative composition and performance.
Studio-quality sound
In York, award-winning composer Ambrose Field will mix the recordings to create a new composition, and the results will be beamed back to an audience in Edinburgh.
The music will be delivered in master quality throughout - the standard used by recording studios.
The high-resolution recording is intended to deliver a sound that is as natural as possible.
It will have none of the compromise on quality associated with audio transmission over ISDN or similar compression techniques.
Long-distance networking
The demonstration will use the Janet Lightpath computer network, a system which links universities and other organisations across the UK.
It allows collaboration across large distances on projects which require high bandwidth connections.
The experiment will take place as part of the UK e-Science All Hands Meeting, organised by the National e-Science centre and held at the University's Appleton Tower.
This is a perfect example of how the Janet Lightpath network can deliver music quality bandwidth between remote locations – it allows experts to work together while hundreds of miles apart.
Related Links
This article was published on