New instrument to make music accessible
A new University invention is helping children who cannot use traditional instruments to make music of their own.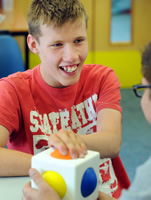 The Skoog is a colourful, squeezy cube that is sensitive to the slightest touch, yet robust enough to resist strong handling.
The new instrument allows children who are severely disabled to play music in an expressive way, improving their communication and concentration skills.
It was developed by University researchers in the schools of Music, Physics and Psychology as part of a joint project to make music more accessible.
Video
Dr Ben Schögler improvises music with the pupils of Hillside School and demonstrates how the Skoog can be used to support language development in children.
Music-making for all
The Skoog - developed by researchers Dr Ben Schögler and Dr David Skulina - allows users to play a variety of sounds.
Technology within the instrument's soft, tactile surface is linked to a computer, which converts the way the Skoog is touched into the sound of different instruments, such as flute, trumpet or marimba.
As a result, the pitch, timbre and volume of the Skoog can be altered with only a very small range of movement.
Making music can be a huge help in a child's development through boosting learning and creativity, but many children are unable to use conventional instruments. The Skoog can be used by anyone, of any age or ability, to make music.
Making the Skoog available
The Skoog has been commercially available from March 2010, and has received widespread interest from the education community.
A new company, Skoogmusic Ltd, has been spun out of the University to commercialise the instrument, and it has already attracted investment from a number of funds.
The spin-out was managed by Edinburgh Research and Innovation (ERI), the University's successful research and commercialisation arm, which celebrated its 40th anniversary last year.
The Skoog is an excellent example of how innovative thinking can be turned into a useful and exciting product that could improve people's lives.
Photo credit: Sandy Young Photography.
This article was published on