Prize for stem cell pioneers
The creators of Dolly the Sheep have been awarded the prestigious Shaw Prize, known as the Nobel Prize of the East.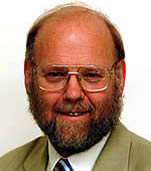 Ian Wilmut and Keith Campbell were awarded the life science and medical prize, which they will share with Japanese professor Shinya Yamanaka for their work in stem cell research.
Ian Wilmut
Professor Sir Ian Wilmut is an internationally recognised expert in stem cells and cloning and a pioneer of research into degenerative brain diseases.
He is currently Chair of Reproductive Technology and Director of the MRC Centre for Regenerative Medicine at the University.
(Their work) advances our knowledge of developmental biology and holds great promise for the treatment of human diseases and improvements in agriculture practices.
His research achievements are many, but he is most widely known as the leader of the team that produced Dolly the sheep, the first clone of an adult animal.
The Shaw Prize
The Shaw Prize is an international award to honour individuals who are currently active in their respective fields and who have achieved distinguished and significant advances.
It was established in 2002 under the auspices of Run Run Shaw, a renowned Hong Kong film producer and philanthropist.
The award in each category is one million US dollars
I am delighted and very pleased to receive this award. This is particularly so because it is shared with my former colleague Keith Campbell and Shinya Yamanaka of Kyoto University. It is also important to remember that we were supported by a large team of people each of whom made their own contribution. Finally, I think the prize recognises that the development of methods for "reprogramming" of cells is creating revolutionary methods for the study and treatment of human diseases.
This article was published on