The University at the Science Festival
We are again playing a part in this year's Edinburgh International Science Festival with talks, workshops and hands-on shows for all the family.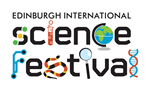 Families are being given the chance to see dancing custard and play with magnetic materials in workshops being held as part of this year's Science Festival.
Visitors to the Atomise event, being held to mark the International Year of Chemistry, will also have the chance to marvel at chemical crystals.
The event, at the Royal Botanic Garden Edinburgh, will also feature the opportunity to witness a chemical reaction taking place, and the chance to learn about Scotland's scientific pioneers.
Atomise is being supported by the University of Edinburgh's School of Chemistry.
Family fun
Discover Science events are held in partnership with the National Museum of Scotland and the Edinburgh International Science Festival.
Discover Science runs from 9 - 22 April at the National Museum of Scotland and Adam House on Chambers Street.
What's on
As part of the University's Discover Science series for families, visitors are invited to: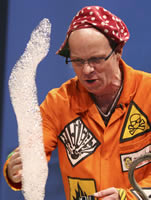 build and programme Lego robots
investigate the workings of the human mind
learn about the Higgs boson particle
find out how scientists are helping to preserve the Earth
In other events for families, Dr Bunhead returns to the science festival with his trademark brand of explosive and colourful science.
This year's show, Pyromania, includes a Guinness World Record attempt to create the longest glow-in-the-dark necklace.
Stimulating debate
Scientists from the University will give the public an insight into their research in the Festival's Big Ideas programme of talks and events for adults.
All events take place at the Informatics Forum on Crichton Street and include:
Professor Bruce Whitelaw from The Roslin Institute invites members of the public to discuss animal research
Zoologist and broadcaster Professor Aubrey Manning joins a debate on the taboo subject of how to curb our growing population
Professor Murray Campbell explores the physics of music and how musical sounds are processed by the human brain
Robotics expert Professor Sethu Vijayakumar explains how the principles of decision-making help create nimble robot footballers
How to book
Discover Science drop-in activities run daily from 10am to 5pm and are FREE with no tickets required.
Tickets for talks, workshops and shows (some are free) are available in advance.
Booking outlets
Tickets are available from the Science Festival and, during the event, the Discover Science ticket desk in Adam House.
Subject to availability, tickets are also available on the day from the Discover Science ticket desk in the Museum.
Special article found - identified by: 1.8057
Discover Science only
Special article found - identified by: 1.8093
Special article found - identified by: 1.8094
Photo credits: Images courtesy the Edinburgh International Science Festival.
This article was published on