Gene clues to schizophrenia risk
Scientists have found thousands of genetic variations, which together raise the risk of schizophrenia.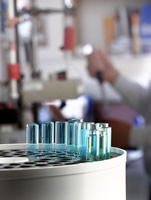 The team also showed the condition is genetically similar to bipolar disorder, commonly known as manic depression.
The findings came from work by three separate teams, including researchers from the University, who analysed DNA from thousands of people.
The studies - the biggest ever into the genetics of schizophrenia - appear in the journal Nature.
Complex genetics
The findings suggest that schizophrenia is much more complex than previously thought, and can arise not only from rare genetic variants, but common ones as well.
The researchers say that individually many of the genetic variations play only a tiny role in raising the risk of passing schizophrenia down the generations.
Cumulatively, however, they play a major role, accounting for at least one-third - and probably more - of disease risk.
The researchers stress that more work is needed to establish exactly how the genetic variants translate into schizophrenia.
They hope the work could lead to new diagnostic tests and treatments for the condition.
We all now hope that these studies will provide vital new clues about the nature of schizophrenia, opening up new possibilities for treating and defining the illness.
Signs and symptoms
Schizophrenia is a common form of mental illness, affecting up to 1 per cent of adults worldwide.
Symptoms tend to appear in late adolescence or early adulthood, and can include delusions, hallucinations, paranoia, and depression.
The cause of schizophrenia remains unclear, but it is thought that up to 90 per cent of cases may be inherited.
Research linking the condition to specific genes was published last year, but it is thought they accounted for only a few cases.
Potentially, the findings of the latest studies could be much more significant.
The research team
The three research teams, who shared their data, were the International Schizophrenia Consortium, the Molecular Genetics of Schizophrenia consortium and SGENE.
In total, they analysed genetic data from 8,014 people with schizophrenia, and compared them with19,090 people who did not have the condition.
Photo credit: Copyright (c) Peter Tuffy, The University of Edinburgh.
This article was published on