New schizophrenia genes uncovered
Researchers have discovered genes linked to schizophrenia that may lead to the development of new drug treatments.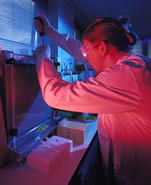 In two studies published in Nature, an international team of scientists discovered four mutated gene regions that increase risk of the condition.
It is hoped the findings could also lead to earlier diagnosis of the disorder, which affects around one in every 100 people.
International collaboration
The studies have been published by two large international schizophrenia consortia, including Professor Douglas Blackwood and Dr Walter Muir from the Division of Psychiatry.
This is good news for all the patients and families throughout Scotland who have given tremendous support to these studies over the years.
The teams scanned the genes of 5000 schizophrenia patients, and an equal number of healthy volunteers, to identify the genetic differences associated with the illness.
The four mutated genes were also found in patients with autism, suggesting that the two conditions may not be as distinct as previously thought.
About Schizophrenia
Family history, which signifies genetic inheritance, is the strongest risk factor for schizophrenia, although environmental factors also play a role.
Despite current treatments, the illness often leads to chronic disability and personal distress.
These are exciting new findings because they will hopefully lead to new drug discoveries and novel treatments for this disease. They may also direct us to other genes involved in illness.
Related Links
This article was published on