Chief Rabbi Gifford Lecture
The Chief Rabbi, Sir Jonathan Sacks, will deliver a Single Gifford Lecture on 17 November 2008.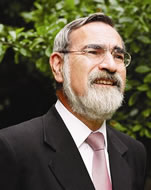 The lecture, entitled "Why Does Faith Survive?" will be held in The Playfair Library, Old College, at 5.30pm.
Chief Rabbi, Sir Jonathan Sacks
Prior to becoming Chief Rabbi, Rabbi Sacks had been Principal of Jews' College, London, the world's oldest rabbinical seminary.
He was also rabbi of the Golders Green and Marble Arch synagogues in London.
He gained rabbinic ordination from Jews' College as well as from London's Yeshiva Etz Chaim.
Book online
This event is FREE but ticketed. Places are limited so booking is essential.
Please print and bring your confirmation email with you to the event. This is your e-ticket.
This event is now fully booked.
The Gifford Lectures
The Gifford Lectures are held at each of the four ancient Scottish universities.
They were established under the will of Adam Lord Gifford, a Senator of the College of Justice, who died in 1887.
The lectures have enabled a notable field of scholars to contribute to the advancement of philosophical and theological thought.
Full details of all the Gifford Lectures are available from Humanities and Social Science.
They will also be providing a live stream of the Chief Rabbi's lecture.
Event details
Chief Rabbi Sir Jonathan Sacks - Why Does Faith Survive?
Monday 17 November 2008, 5.30pm
Monday 17 November 2008, 6.30pm
Playfair Library, Old College, South Bridge, Edinburgh EH8 9YL
Related Links
This article was published on