Red deer at risk from cross-breeding
Scotland's mainland wild red deer population could be lost from the landscape by breeding with a foreign species.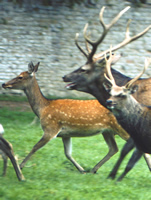 Research in Kintyre by University scientists shows that Japanese sika deer, brought to the country in the 19th century, have bred extensively with native deer.
In one area more than 40 per cent of deer were found to be a mixture of red and sika.
Population change
The scientists believe that the extent of cross-breeding with foreign deer may change Scotland's wild deer population forever.
Continued cross-breeding could alter their appearance and behaviour over generations.
Captive species
Japanese sika deer were brought to the UK as an ornamental species for deer parks.
They quickly escaped into the wild and can be found across 40 per cent of mainland Scotland and other parts of the UK.
High impact
Until recently it was thought that the overall impact of their cross-breeding with the native species was low.
The research, funded by the Natural Environment Research Council and the Macaulay Institute, is published in the journal Molecular Ecology.
The extent of cross-breeding we uncovered is worrying. This cross-breeding represents a serious threat to wild red deer on mainland Scotland.
Photo credit: Josephine Pemberton.
This article was published on