Iain Macwhirter chosen as Edinburgh's 50th Rector
Iain Macwhirter has been elected as the University's 50th Rector.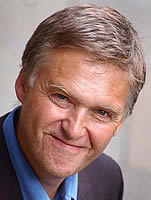 The journalist took 4822 votes in the Rectorial Election, winning 69 per cent of the total vote. Mr Macwhirter beat off a challenge from George Foulkes.
Iain Macwhirter said:
"I am delighted that the students and staff of the University of Edinburgh have chosen me to be their Rector.
"I am extremely excited to have this opportunity to take an active involvement in the University and look to ensure the interests of both staff and students are maintained.
"I would also like to take this opportunity to thank George Foulkes for running an excellent campaign and wish him all the best in his future endeavours."
Interview with Iain Macwhirter
Watch a video interview with Iain Macwhirter, following the Rectorial Election results.
Media file support
To view this video you will need Adobe Flash Player installed on your computer.
We are delighted to welcome Iain Macwhirter as the University of Edinburgh's next Rector. We look forward to working with him.
The role of rector
The Rector chairs the University Court, the governing body of the University, and represents the interests of students and staff.
The University's Rectorial Election takes place every three years.
History
This election marks 150 years since William Gladstone first took up the post of Rector at the University.
The role was established by an 1858 Act of Parliament.
Past rectors include Prime Ministers Winston Churchill, David Lloyd George, Stanley Baldwin and Gordon Brown, when he was a student at Edinburgh.
The current Rector is the former Green MSP Mark Ballard. Others to hold the position include:
Sir Alexander Fleming, discoverer of penicillin
James Robertson Justice, actor
Magnus Magnusson, journalist and presenter
Muriel Gray, journalist and broadcaster
Donnie Monro, singer
John Colquhoun, footballer
Tam Dalyell, MP
Related Links
Rectorial Election 2009
This article was published on