New Rector confirmed
Peter McColl has been confirmed as the new Rector of the University.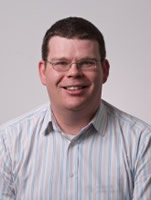 Mr McColl, an alumnus of the University, is a writer, activist and charity worker from Edinburgh.
He has been named as Rector following an uncontested election and will take up the post on 1 March 2012.
He succeeds writer and broadcaster Iain Macwhirter as Rector.
Peter McColl
Time at the University
Mr McColl came to Edinburgh in 1998 to read geography and holds both an undergraduate degree and Masters from the University.
He was Vice President of the Students' Association from 2001-02 and had been President of the University's People and Planet society prior to that.
I am delighted to have been elected Rector of the University of Edinburgh. I will ensure that staff and students are listened to at the top of the University. The Rector's position as Chair of the University Court is a vital part of good governance, and I look forward to ensuring that this continues. I will be meeting as many staff and students as I can over the coming months so I can continue the good work of the current Rector, Iain Macwhirter."
Biography
After University Mr McColl worked as an advisor to Mark Ballard MSP, who was also Rector from 2006-2009.
Mr McColl was Mr Ballard's assessor while he was Rector.
He McColl later worked for the Scottish Council for Voluntary Organisations.
Students want a Rector who will ensure their voice is heard in the University and who is committed to free education. Peter's experience in dealing with the University and commitment to getting the best for Edinburgh students means he can do a great job as Rector.
Mr McColl was Chair of Transition Scotland Support from 2008-2011 and is an editor of the Bright Green blog.
In 2011 Mr McColl was voted one of the top 100 political bloggers, and was voted top Green blogger by Total Politics Magazine.
We are delighted to welcome Mr McColl as the next Rector at the University of Edinburgh and look forward to working with him.
This article was published on