Ian Rankin turns back time
Exhibits associated with crime novelist Ian Rankin are among the highlights of a University display with a literary theme.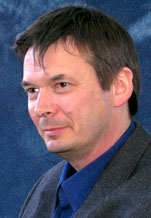 The exhibition, which runs from 3 August to 27 October, is being held to mark 250 years of English Literature study at Edinburgh.
It will be held in the Main Library - a place that holds happy memories for the bestselling writer, who studied English Language and Literature at Edinburgh from 1978 to 1985.
Mr Rankin was a regular visitor to the library in George Square as a postgraduate student when he wrote his first novel.
Doors open
Speaking at an exhibition preview, Mr Rankin said that time spent in the library had played a key role in helping him start his writing career.
Among the exhibition highlights are a thesis proposal handwritten by Mr Rankin, the writer's student matriculation card and a first edition of his first novel The Flood, published in 1986.
The exhibition - called City of Words: Writers, Readers and Critics in Edinburgh - runs in the University's Main Library from 3 August to 27 October.
It offers a fascinating insight into the origins and development of literature study in the University's world-class department of English Literature.
Literature at Edinburgh
Edinburgh is home to one of the oldest English Literature programmes in the world. Literary study was established in 1762 when the Rev. Hugh Blair was appointed as the first Regius Professor of Rhetoric and Belles-Lettres.
Other exhibits include previously unseen letters by distinguished writers, including Robert Burns, Robert Graves, D.H. Lawrence and Arnold Bennett.
There are also a number of signed first editions as well as memorabilia linked to famous former students.
Further highlights are:
the first edition of the influential Edinburgh Review from 1802
a University class list from 1779 belonging to Professor Blair
a charter from Queen Victoria confirming a professorial appointment in 1865
a drawing of the Loch Ness Monster by celebrated Edinburgh publisher James Tait Black
It's humbling to be part of this collection. It's terrific to come back to the University Library. I spent seven years of my life studying literature here and they had to drag me kicking and screaming from the place.
Related Links
This article was published on