Free health checks for Rabbit Week
Pet rabbits are to be offered free health check-ups at the University's Royal (Dick) School of Veterinary Studies.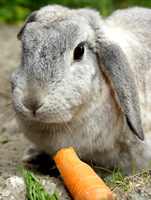 Bunnies will be examined at the Hospital for Small Animals, Easter Bush, as part of National Rabbit Week, from 14 to 18 April.
The sessions will highlight any potential medical problems and offer free advice on rabbit care and nutrition.
The week will also include a talk on pet care, a rabbit show and a tour of the Hospital for Small Animals.
Rabbits are the third most popular pet in the UK.
Vets say it is increasingly important for owners to be aware of their pet's needs - from housing and diet to grooming and exercise.
At this time of year, rabbits may experience changes in their diet as they are moved from indoor hutches to outside. While eating more grass is good for their diet, rabbits may have digestive problems if they suddenly start eating large volumes of grass.
How to book
The check-ups are free but places can be reserved at the Easter Bush Hospital for Small Animals.
Special article found - identified by: 1.3862
This article was published on