Lecture by Israeli Ambassador
His Excellency Ron Prosor, Israeli Ambassador to the United Kingdom, gave a public lecture on Tuesday 11 November.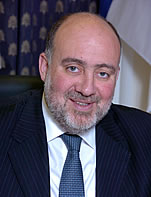 The lecture, "The Middle East Today: Regional Challenges, Global Implications", was held at McEwan Hall, Teviot Place at 5.30pm.
The lecture was followed by a question and answer session.
Ron Prosor has been Ambassador of the State of Israel to the Court of St James since November 2007.
He served as Director General of the Ministry of Foreign Affairs from October 2004 until June 2006.
Before assuming this post, Prosor acted as Senior Deputy Director General of the Ministry and Chief of Policy Staff to the Foreign Minister.
Event details
Lecture by Israeli Ambassador, Ron Prosor
Tuesday 11 November 2008, 5.30pm
Tuesday 11 November 2008, 6.45pm
McEwan Hall, Teviot Place, Edinburgh, EH8 9AG
This article was published on