Potterrow project builds on success
The Potterrow development at the University has won a Royal Institute of British Architects award.
The architectural excellence award is the latest in a string of accolades for the central area project, comprising the Informatics Forum and the Dugald Stewart Building.
Video tour
Watch a video tour of the Informatics Forum with Professor Mike Fourman, Head of the School of Informatics.
Image found - identified by: 1.9889 with ref Id 1.9889
Previous awards
The Potterrow development was recently named Scottish Building Project of the Year 2009 by the Royal Institution of Chartered Surveyors in Scotland (RICS Scotland).
It was shortlisted for the RICS building of the year award after it won a separate award for sustainability, also from the RICS.
These awards, held annually, celebrate the best new buildings, re-developments or conservation projects in Scotland.
The £42 million Potterrow development also won the 2008 RIAS Andrew Doolan Best Building in Scotland Award, which is acknowledged as the UK's richest architectural prize.
These buildings are powerfully contemporary in their design and yet welcoming in their materials and spaces.
Open plan design
The site, designed by Bennetts Associates Architects, forms part of the University's George Square campus.
The Informatics Forum houses the research activities of the School of Informatics, and the Dugald Stewart Building houses the School of Philosophy, Psychology and Language Science.
The project is designed to be open plan, to encourage communication and collaboration between researchers.
Virtual tours
Watch a series of virtual tours of the Informatics Forum, including meeting spaces, offices and terraces.
Image found - identified by: 1.9896 with ref Id 1.9896
Strong prospects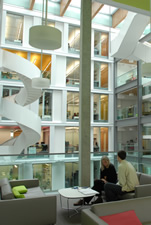 Some 500 researchers work in the Informatics Forum, with interests spanning virtual reality, robotics, artificial learning, intelligent systems, computational linguistics and bioinformatics.
Built over six floors around a central glass atrium, the Forum is intended to promote world-class collaborative research.
The Dugald Stewart Building, named after the Scottish philosopher and Edinburgh graduate, brings together many of the 120 academic staff from the School of Philosophy, Psychology and Language Science.
They provide teaching and support for more than 1000 undergraduate and 300 postgraduate students.
Internal communications and high quality break-out spaces create a lively and friendly environment. Amenities, including comfortable seating areas and terraces at various levels, create opportunities for interaction and quiet contemplation, a considerable remove from traditional educational provision.
Photography by Peter Tuffy, © School of Informatics.
This article was published on