Postgraduate Research Experience Survey 2008
The University is participating in a national online survey aimed solely at research students.
We would like to hear from you about how you feel your research degree experience can be made better.
The Postgraduate Research Experience Survey (PRES) 2008 should take around 15 minutes to complete and all responses will be anonymous.
If you are a postgraduate research student at the University you can complete the survey online now.
University staff will use the Edinburgh results to help make the changes you'd like to see. The results will be online for you to view later in the year.
The Survey takes place from now until 31 May 2008.
About the Survey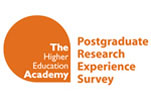 PRES is run by The Higher Education Academy and is available to all Higher Education institutions across the UK.
It is designed to help institutions enhance the quality of postgraduate research degree provision by collecting feedback from current research students in a systematic and user friendly way.
Contact details
For further information on PRES contact Victoria Heathwood.
Special article found - identified by: 1.2214
This article was published on