University expert heads to the Games
A University Physiotherapist will ensure that Scotland's athletes are in top condition at the 2010 Commonwealth Games.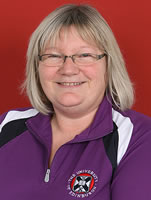 Lindsay Thomson, who works at the University's Fitness Assessment and Sports Injury Clinic (FASIC), has been selected as Head Physiotherapist for Scotland's team in Delhi 2010.
The physiotherapists will treat more than 100 athletes representing Scotland in a range of sports, from badminton to boxing.
Ms Thomson is a clinical physiotherapy expert, and has extensive experience of working with elite athletes at the clinic, which is based within the University's Centre for Sport and Exercise.
Top experience
Ms Thomson also worked with the Scotland team during the Commonwealth Games in Melbourne 2006 and Manchester 2002 and with the Scottish Ladies Hockey Team.
Delhi is the first Indian city to host the Commonwealth Games, which will take place from 3 to 14 October next year.
20th anniversary
The announcement comes as FASIC celebrates the 20th anniversary of its official opening.
FASIC is the largest sports injury centre in the country and, with its team of 30 specialists, provides assessment and treatment to athletes of all levels.
This is a tremendous personal achievement for Lindsay, and comes in recognition of her excellent clinical abilities and extensive experience of working with elite athletes across a range of sports and an array of major events.
A winning university
Our sports facilities and programmes are among the finest in the UK. We were rated 4 out of 140 institutions in the Independent's Complete University Guide 2008-09.
We provide bursaries, training programmes and a range of support services to help gifted students realise their sporting potential.
This article was published on