Supporting our PhD researchers
At Edinburgh, we equip our postgraduate researchers with more than just specialist academic skills - we offer support and training that will prepare you for your career.
Postgraduate research students benefit from support from our Institute for Academic Development (IAD), one of the most established university research and career skills training centres in the UK.
The IAD helps our postgraduate research students gain the skills, knowledge and confidence needed for undertaking a PhD, and to move on to a successful career.
It provides learning resources and training courses, offers networking opportunities, and gives advice on career management to doctoral researchers
Developing these broader professional skills and qualities means that our postgraduate research students are in high demand.
Transferable skills development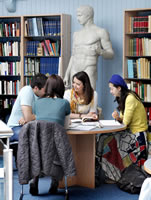 The initiative encourages you to develop transferable skills for the world of work through a series of training courses tailored to each individual school.
You can also undertake generic training courses on topics such as research planning, communication and IT skills, business and enterprise, and professional development.
Some courses are available online and accompanied by a suite of complementary learning resources, allowing you to work through the training in your own time and at your own pace.
The prospect of a PhD can be daunting. It's great to feel right from the start that there is a support network that is welcoming and useful and a key point of reference to help you make the most of the academic experience.
Career preparation
You can take advantage of IAD's career development guidance and preparation, whether you plan to pursue a career in academia, intend to follow a path into other sectors, or wish to develop your business or entrepreneurial skills.
Networking opportunities
Network development is an important part of doctoral research: networks can help you find colleagues to discuss research ideas with, potential collaborators, peer support, and contacts to help you find future jobs.
IAD offers opportunities to engage with other researchers through informal networking events, research-relevant networks, online forums and Facebook groups.
Funding application support
IAD works closely with Edinburgh Research and Innovation (ERI) to make sure researchers are aware of funding opportunities and share best practice on application writing.
Advice on where and how to apply for funding to start up a business, or run development initiatives is also available.
Everyone will get something different out of our offering depending on what they choose to get involved in and their own personal aims or objectives, but I want all our researchers to leave with an improved knowledge of the career options open to them, and the skills and confidence to be able to achieve their goals.
Related Links
Support for doctoral researchers
Funding for researchers
This article was published on