Evening clinics for pet owners
Pet owners with busy lives can make the most of extended opening hours at the Royal (Dick) School of Veterinary Studies.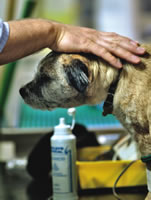 Clinic times are being extended for the School's Small Animal Practice, Exotic and Animal Wildlife Service and Rabbit Clinic from 5pm until 7pm three nights a week.
The extended hours have been made in response to a rising number of clients, many of whom have also expressed an interest in opening times outside normal work hours.
Clinics
The Small Animal Practice provides a range of treatments and health checks for cats and dogs, including vaccinations, microchipping, neutering and dental work.
There was a need to increase our hours as our days were getting busier. The evening surgeries also mean that our clients will not need to take time off work for their pets' appointments
Animals treated at the Exotic and Animal Wildlife Service range from tortoises to budgerigars.
Earlier this year the School also appointed Brigitte Reusch as the UK's first lecturer specialising in rabbit medicine.
Rabbit clinics are now run as a dedicated division within the hospital's exotics department.
Evening clinics
The decision to extend opening hours was made as a result of feedback from a client survey.
Evening clinics take place on Monday, Tuesday and Thursday.
The reception will also be open for clients collecting repeat prescriptions and food.
Many of our exotic patients travel long distances to see us, so this should make us more accessible and allow our patients to receive prompt treatment and care.
Appointments
Appointments for the evening clinics can be made by contacting Recption at The Hospital for Small Animals.
Special article found - identified by: 1.3862
This article was published on