Students address Holyrood climate event
Postgraduate students have contributed to a Scottish Parliament event about the impact of climate change.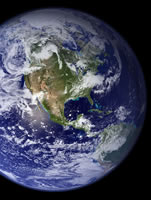 The students from the MSc in Carbon Management, who are from India, Indonesia, Nepal, Tanzania, the US and the UK, took part in a debate about global efforts to tackle climate change.
New legislation
The meeting coincided with the Parliament's consideration of the Climate Change (Scotland) Bill.
A discussion was also held on the new legislation and how it will fit in with international efforts on global warming.
High profile
Taking part in the meeting were MSPs, representatives from the European Environment Agency, and environmental non-governmental organisations.
They were joined by participants from the transport and energy sectors, and from the fields of science and education.
The event was hosted by the Scottish Parliament's Transport, Infrastructure and Climate Change Committee.
Throughout their careers, these students will be tackling the impacts of climate change head-on. Their views are integral to the ongoing debate on this issue.
Image credit: NASA
This article was published on