Panels give pupils ideas about design
Architecture students collaborated with school pupils to create a mural for Castleview Primary School in Craigmillar.
The mural is made up of textured and brightly coloured concrete panels, which have been designed by the school children.
The designs include abstract curving forms, as well as more familiar images such as children's hands, the school's logo and Craigmillar Castle.
New technique
The panels, in a variety of different sizes, have been made using a new technique that casts concrete against fabric, giving it a soft, tactile appearance.
The concrete can also be coloured by adding dye to the wet mixture.
This technique gives a much softer form than traditional casting methods – the concrete looks like something soft which everyone wants to touch.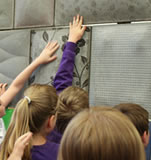 Community project
The children were invited to get involved as part of a community project that seeks to teach them about design, building and construction processes.
The mural will become a feature of the Craigmillar Heritage Trail.
The children were really surprised by the materials that can be used to cast concrete. Working with the University increases educational aspirations and once the mural is constructed it will give our pupils a great sense of pride in their local community.
Photo credit: Rachel Travers, The University of Edinburgh.
This article was published on