Edinburgh at the Olympics
Leading sports men and women with strong University links have competed at the Olympics in Beijing.
Results
Alumnus Chris Hoy has become only the second Briton to win three golds at the same Games.
Hoy is Scotland's most successful Olympian, with previous golds in the team sprint and keirin at Beijing, a gold in Athens in 2004 and a silver in Sydney, in 2000.
His achievement adds to that of alumna Katherine Grainger, who took silver in the quadruple sculls.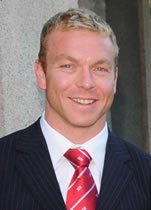 Chris Hoy
Cyclist Chris Hoy MBE graduated with a BSc in sports science in 1999 and was awarded an honorary doctorate in 2005.
Chris chose to study at the University because he wanted to find out more about how the application of science could help him take his performances to the very highest level.
The Principal, Professor Sir Timothy O'Shea said:
"Chris has always maintained that what he learned in his studies brought something extra to his competitive career, and we are therefore very proud that he has become Scotland's most successful Olympian"
Since graduating from Edinburgh in 1999, Chris Hoy has been an excellent ambassador for the University, and the whole University community is thrilled by his world-beating performances in Beijing.
Katherine Grainger
Rower Katherine Grainger MBE, who graduated in 1997, competed in the quadruple scull where she won a silver medal.
Katherine is Britain's most successful Olympic female rower. She won silver medals in 2000 and 2004 and has been a World Champion four times.
Two from Edinburgh on hockey team
Student Stephen Dick, who is currently on a break from studying to concentrate on his hockey career competed with the British men's team.
Stephen, 23, made his Scotland debut in 2004. Before Beijing, he had made 68 appearances for Scotland and 22 for Britain, for whom he also scored on his debut.
He joined Edinburgh alumnus Alistair McGregor on the men's team. Alistair, the goalkeeper, has 82 caps for Scotland and a further 22 for Britain prior to the Olympics.
Euan Burton
Euan Burton studied for a year at the University and still trains at the Centre for Sport and Exercise.
He beat Sydney 2000 Olympic Judo gold medallist Gieuseppe Maddaloni of Italy to take bronze at the 2007 World Championships and qualify for the Beijing Games.
A winning University
Jim Aitken, Director of Sport and Exercise at the University, said the number of Olympic athletes bore testament to the quality of sports at the University.
Our sports bursaries programme has helped athletes at University level make the next step, up to the Olympics. Edinburgh is very proud of its sporting past and future – it's a very positive time for us.
Our sports facilities and programmes are among the finest in the UK. We were rated 4 out of 140 institutions in the Independent's Complete University Guide 2008-09.
We provide bursaries, training programmes and a range of support services to help gifted students realise their sporting potential
This article was published on