Nobel Laureate to give public lecture
Nigerian writer and Nobel Laureate Wole Soyinka is to give a public lecture on June 12.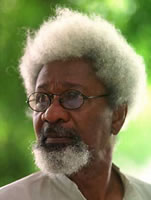 The lecture will be held at 5.30 pm, in the Debating Chamber of the Scottish Parliament, as part of a conference hosted by the University.
Wole Soyinka
Dr Soyinka won the Nobel Prize for Literature in 1986.
He is a playwright, poet, novelist, and critic. His play Death and the King's Horseman is currently being performed at the Royal National Theatre in London.
During the Nigerian civil war in the 1960s, Dr Soyinka appealed in an article for a cease-fire.
After this he was arrested, accused of conspiracy, and held as a political prisoner for 22 months.
He received an honorary degree from the University in 1997.
Public lecture
Dr Soyinka is one of the speakers at the 2009 Annual Meeting of the Consortium of Humanities Centers and Institutes (CHCI).
The meeting, which is hosted by the University's Institute for Advanced Studies in the Humanities, will take place between June 11 and June 13.
Speakers at the event will address the topic of "Dialogues of Enlightenment". It is the first time that the CHCI has held its annual meeting in the UK.
The lecture is given by kind permission of the Presiding Officer and the Scottish Parliamentary Corporate Body.
How to book
Admission is free but by ticket. Tickets are available from the Scottish Parliament's Visitor Services.
Special article found - identified by: 1.10191
This article was published on