New Head of College
The University is delighted to announce a new Vice Principal and Head of the College of Humanities and Social Science.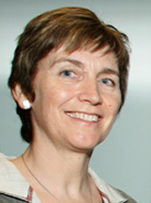 Professor Dorothy Miell joins Edinburgh from the Open University, where she has been Dean and Director of Studies of the Social Sciences Faculty since 2005.
Professor Miell holds a BSc and PhD in Psychology from Lancaster University.
Her research focuses on understanding the social and communicative aspects of creativity - particularly in collaborative activities such as music making.
I was extremely pleased to have such a strong field of candidates for this position. I warmly congratulate Dorothy on her appointment and look forward to welcoming her to Edinburgh and to working with her next year.
Diverse College
Professor Miell will assume responsibility for leadership of the University's largest and most diverse College, which comprises 11 Schools and over 13,000 students.
She will take up post on 1 March 2010. Until then the College will continue to be led by Professor David Fergusson in his capacity as Acting Head of College.
I'm delighted to have been appointed to this very exciting role in an institution with such a range of world class achievements. I look forward to working with colleagues in the College and across the University as well as with external partners, to contribute to the further development of such a vibrant academic community.
Related Links
This article was published on