Edinburgh's 50th Rector
Iain Macwhirter was elected as the University's 50th Rector on 12 February 2009.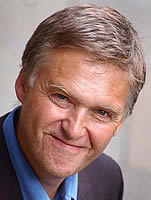 He will be officially installed as Rector in a ceremony at the University in March.
Iain Macwhirter
Iain Macwhirter studied politics at the University as a postgraduate student in the 1970s.
During his PhD he began working for the BBC as a political researcher.
In 1987 he became the BBC's Scottish Political Correspondent. In 1989 he moved to London to present BBC network political programmes such as Westminster Live.
He also began writing political commentaries for Scotland on Sunday and later became a columnist for the Scotsman and the Observer.
In 1999 Mr Macwhirter returned to Scotland to help set up the Sunday Herald and to present the BBC's Holyrood Live, which he fronted for seven years.
Mr Macwhirter has been a regular political commentator for the Herald and Sunday Herald and regular writer for the New Statesman and the Guardian.
"The rectorship as we know it is one of Scotland's great institutions. It's a genuine honour and a privilege to chair the University Court, and I think it is very important that the Court is chaired by someone who genuinely represents the students and staff."
The role of Rector
The primary role of the Rector is to chair the University Court. The Rector also chairs meetings of the General Council in absence of the Chancellor.
More recently, Rectors occupy a position similar to an ombudsperson. They work closely with students and the Edinburgh University Students' Association.
This article was published on