Book campaign opens lost world
The University is backing an initiative that encourages people to learn more about two great writers with Edinburgh ties.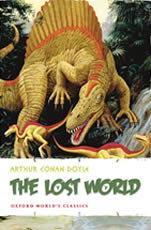 The Lost World Read campaign will give away 200,000 books that celebrate the lives of Sir Arthur Conan Doyle and Charles Darwin - who both studied at the University.
People can pick up one of four free books which have been chosen to mark the campaign, organised by the UNESCO City of Literature Trust.
The books
The books, which are available from public libraries, are:
The Lost World, an adventure novel by Conan Doyle.
A quick-read version of The Lost World featuring Wallace and Gromit.
A graphic biography of Darwin.
A reader's guide that explores dinosaurs, evolution and science fiction.
Claim your free book
Find out where to claim your free book on the Lost World Read website.
Books are also available from the University Visitor Centre.
The University is excited to be involved with a project that combines literature and the theory of evolution. This is an important part of our efforts to widen participation and develop young people's interest in studying science.
The Year of Darwin
2009 is the bicentenary of the birth of Charles Darwin, who studied Medicine at the University.
It also marks the 150th anniversary of the publication of his "On the Origin of Species", one of the most significant achievements in Western intellectual history.
The University is hosting a series of events to celebrate the Year of Darwin, including a public talk with Professor Aubrey Manning on 12th February.
This article was published on