Pioneering researchers hailed as leaders in their field
Three young researchers from the University have been recognised as among the most promising of their generation.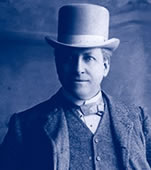 The Philip Leverhulme Prize has been awarded to:
Dr Jared Tanner of the School of Mathematics
Dr Paul Palmer from the School of GeoSciences
Dr Jill Burke of the School of Arts, Culture and Environment
The awards, from the Leverhulme Trust, grant each winner £70,000 to further their studies.
Recipients are usually individuals under the age of 36 who have made an exceptional contribution to their area of study, and are expected to continue to do so.
Emerging science
Dr Tanner is an expert in high-dimensional geometry and also studies an emerging area of maths which has direct applications in electrical engineering.
His work helps to improve the accuracy of techniques such as MRI scanning and data processing.
He intends to use his award to improve the accuracy of such technologies.
Fresh approach

Dr Palmer studies movement and chemical changes in gases in the atmosphere that are linked to climate change.
He uses data from satellites - a new approach that produces more accurate results than conventional methods.
He will use his Leverhulme award to strengthen links between his research group and its collaborators.
Challenging views

Dr Burke is an expert in Italian renaissance art whose work challenges traditional views of her subject.
She plans to use her award to write a book with the working title "The Renaissance Nude: Nakedness in Italy from Donatello to Michelangelo".
The book will examine the changing concept of the nude in Italian art from 1400 to 1550.
The award of Leverhulme Prizes to three talented individuals at the University of Edinburgh is testament to their quality of research. These awards, which recognise emerging talent in pioneering areas of study, will enable the winners to expand their investigations, which in turn deliver tangible benefits for society.
Photography: Viscount Leverhulme - Reproduced by kind permission of Unilever from an original held by Unilever Archives, Dr Jared Tanner - credit Coralia Cartis.
This article was published on