Celebrating 100 Years of Women in Law
A series of events is being held to mark the centenary of women studying law at Edinburgh.
Scotland's first female graduates were awarded degrees from the Faculty of Law - now the School of Law - in April 1909.
Eveline MacLaren and Josephine Gordon Stuart graduated in a landmark ceremony in the McEwan Hall.
Events
The events programme commemorates the lives of the first female law graduates and honours the success of important female legal figures.
Highlights include lectures by:
Lynda Clark, Baroness Clark of Carlton QC, a judge of the Court of Session in Scotland.
Nobel Peace prize winner Shirin Ebadi, a prominent Iranian lawyer.
Full details of the centenary celebrations are available on the School of Law website.
Lecture online
Earlier this year, the annual W. A. Wilson lecture was delivered by Hector MacQueen, Professor of Private Law in the School of Law.
Professor MacQueen told the story of how women first broke into the legal profession in Scotland.
A recording of the lecture, "'Scotland's First Woman Law Graduates 1909", is available online.
Honouring success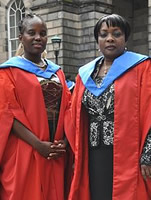 Another significant part of the celebrations was the award of honorary degrees to women who have made a significant impact in the legal profession in Africa.
To mark the centenary the Law School awarded the Degree of Doctor of Laws to Justice Unity Dow and Justice Julia Sebutinde, both alumni of the University.
Justice Unity Dow was the first women to be appointed a high court judge in Botswana. She is also a successful novelist.
Justice Julia Sebutinde, is a Judge of the High Court of Uganda and is currently seconded to the UN Special Court in Sierra Leone.
This article was published on