Statue commissioned for University
A bronze skeleton created by acclaimed sculptor Kenny Hunter has been unveiled at the University.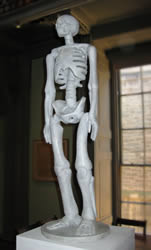 The one metre tall, white coloured statue was unveiled at the Talbot Rice Gallery at Old College on Wednesday, 3 December.
The statue, called "The Unknown", was commissioned for the University by its General Council, which marks its 150th anniversary this year.
The sculpture will be given a permanent home in a University building at a later date.
'An artist of obvious intelligence'
Mr Hunter has been described by the Washington Post as "an artist of obvious intelligence and meticulous craftsmanship".
His works include "Citizen Firefighter" outside Central Station in Glasgow and "Feedback Loop" in Aberdeen Art Gallery.
This year he has exhibited at the Tramway in Glasgow, the Scheffel Gallery in Frankfurt, and taken part in the Busan Biennale in Korea.
The Talbot Rice Gallery
The Talbot Rice Gallery promotes knowledge, understanding and new ideas, realised through thematic exhibitions, events and publications.
The Gallery presents up to five major exhibitions per year in the main gallery and additional projects in the round room space.
A full menu of public events supports the temporary exhibitions programme.
Related Links
This article was published on