Entrepreneur shares secrets of success
A Silicon Valley venture capitalist is taking part in a University event to share inside knowledge on starting a company.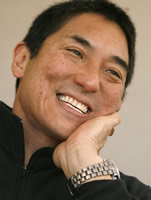 Guy Kawasaki, managing director of Garage Technology Ventures, is best known for marketing the boom in Apple Macintosh computers in the 1980s.
The enthusiastic entrepreneur is sharing his insight with students, venture capitalists and aspiring businesses.
Business pitches
Some 50 commercial ventures will pitch their ideas to investors at the event, called Engage / Invest / Exploit 2009.
The pitches include computer and web-based ideas from a range of sectors such as healthcare, media, renewable energy, recruitment, and market research.
The ventures are all products of computing science and informatics research at the universities of Aberdeen, Abertay, Dundee, Edinburgh, Glasgow, St Andrews, Stirling, and Napier University.
Investors taking part are from the private and public sector investors together with industry.
Scotland's computing and informatics sector is fast establishing a strong track record in taking great ideas to the marketplace. We are delighted to bring together the ambitious people behind these ideas and the investors who can make success happen for our start-ups and spin-outs.
This article was published on